1. Bone Black
2017-Ongoing
Franklin D Roosevelt has his 2nd helping (2022)



Oil on Board - (Homemade Bone Black)



Building on the themes of previous work Bone Black further explores the relationship between material and depiction of an artwork. This series of paintings is made using a pigment produced by the artist from chicken bones, charred and then ground into a black oil paint. The monochrome works become a dialogue between image and truth, painting and object.

The paintings depict Kapparot (a ritual practised by Orthodox Jews), a display of sporting devotion, a pair of roast chickens on display in Morrisons and the scene from the 1996 movie Space Jam where the rooster is turned to ash (much like the process of making the paint). A somewhat chaotic collection of images, it's the themes recurring between the paintings that start to reflect different elements of our own existence; politics, faith, power, sexuality are all dialogues present in the work. Yet it is the creation of the work and the transition from chicken to painting, living to not living as something to also reflect upon.


Reclining Nudes (Two British roast chickens in Morrisons, Margate)
(2022)
President Eisenhower takes a look at a ham and some chickens
(2022)
Hot & Tender
(2023)
Kapparot in Brooklyn
(2023)
$50,000 Fire
(2021)
Huddled on a Roof
(2021)
Roland Anderson Burns Chickens
(2022)
Eggwina
(2021)
Closed on Sunday (2020)
Cobb 500
(2018)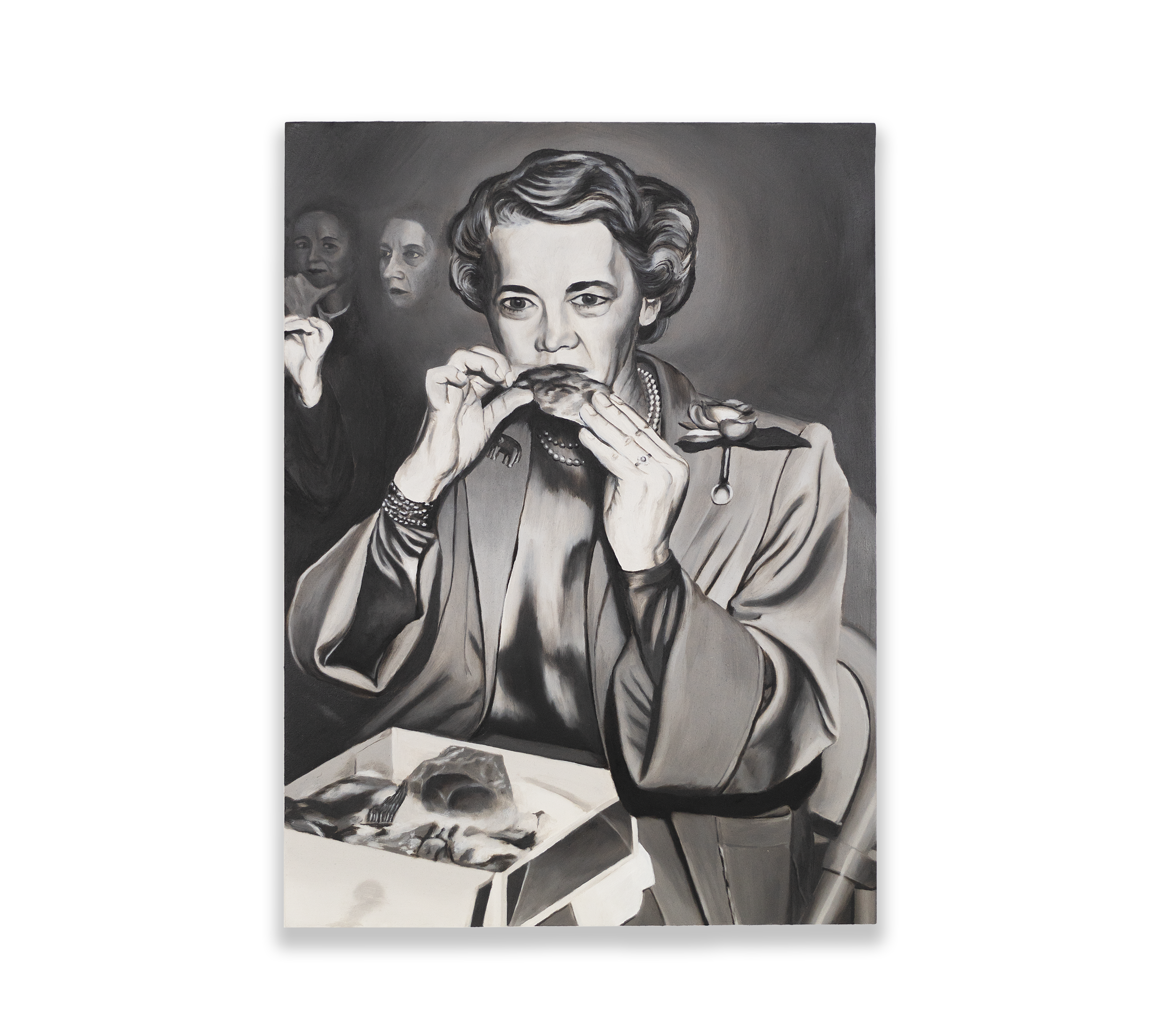 Senator Margaret Chase Smith eats box meal at GOP rally in Washington
(2023)
Estes Kefauver
(2021)
Nelson Rockerfeller
(2021)
Wing Bowl #002 (The Locust)
(2020)
Chicken of Tomorrow Queen (2019)

Colonel Sanders (2019)
920 Chickens (2019)

Moroccan Chicken Stall (2018)
Wing Bowl #001 (Molly Schuyler)
(2018)
Drumstick
(2017)